SCHEDULING BEGINS THURSDAY, MARCH 30
Brian Monahan
Published 2023-03-26
Phase I scheduling for all levels except 15AA and 15AAA is set to begin on Thursday, March 30. Scheduling documents will be emailed to the person listed as Head Coach on every team, most likely by mid-day. Below are some notes on the scheduling process.
MBL Game Scheduling

Scheduling Tips
Resources:
* Click here for league calendar - 2023 scheduling begins Thu, Mar 30.
* Find coaches/managers here: PEOPLE finder

+ If you will be out of town for the start of scheduling, have your travel director assign another asst coach, manager or parent as "Head Coach" on your MBL team page. Head coach contact info is included when scheduling documents go out. Head coach can be changed back at a later date.
+ Talk with your team and parents about school, family and other commitments they know of during the season. Common conflicts include band/choir concerts, end-of-year field trips/carnivals and graduations.
+ Obviously, work closely with your travel director, field coordinator and other coaches you might share your fields with to determine which dates work best to schedule your games.


The league scheduling process is done by coaches, asst coaches and/or team managers. Travel Directors may also work on team schedules. This process begins with Phase I Scheduling, generally in late March or early April. (Click here for league calendar - 2023 scheduling begins Thu, Mar 30.)

Phase I Scheduling is the initial creation of the schedule. Schedules can be edited at any time during the season, but the initial schedule must be entered within a week of the opening of the Phase I scheduling window.

Within a day or two of region announcement, the Phase I Scheduling window will open. When it opens, coaches will receive a scheduling PDF by email, which shows each team's opponents and assigns each game a unique game number.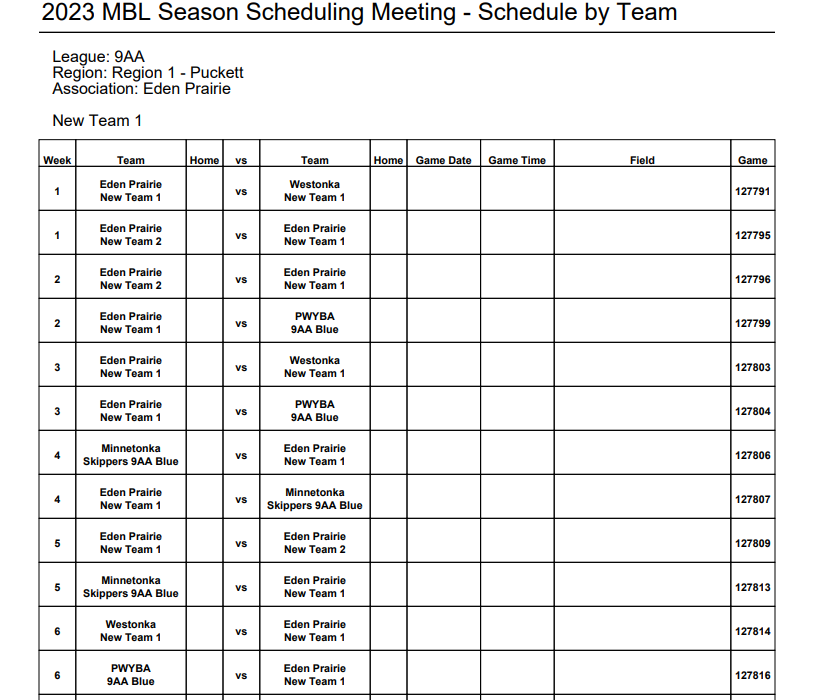 Teams then contact one another and agree upon dates, times and locations for games. Contact info is included in the PDF scheduling form and is also available through PEOPLE finder in the upper left corner of the MBL site. Once scheduled, game info must be entered into the MBL site from each team's MBL home page. Coaches or managers from either team can enter this info. (Generally, the home team will select the field - given it is their home game and they know what field they are using.) The left TEAM column on the scheduling page is the default HOME TEAM for each game, but you are welcome to switch home and away as needed.

Every region will have communities at the north-south-east-west poles of the geographic stamp. We encourage communities to work together - taking travel time into account - in order to get all the games scheduled. In many cases, it makes sense to play a double-header to accommodate communities coming from greater distances.

Once all games are agreed upon and entered into the MBL site, you have completed Phase I scheduling.

Questions? Contact Brian Monahan.